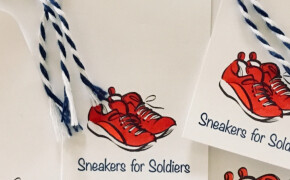 Sneakers for Soldiers
7/20/2018
Thanks to your amazing generosity, we have shipped ANOTHER order of 21 shoes to Air Force men and women in Afghanistan! The soldiers have been "chewing through their shoes" and new ones will be welcomed!
Thank you for the donations that make this possible. The extreme temperatures wreak havoc on athletic shoes, and with your help, we're able to continue outfitting platoons with new shoes.
The need for sending deployed soldiers new athletic shoes was discovered by parents of an Army infantry soldier after he requested a new pair be sent to him. Asking him if other soldiers needed athletic shoes, his reply was an emphatic "Yes" since they are not available on base.
In Afghanistan, the extreme heat, harsh environment, and daily exercise can quickly wear out athletic shoes and frequently creates the need for a new pair.
"Sneakers for Soldiers" was formed in April 2018.
Due to generous donations, new athletic shoes for the first platoon are on their way to Afghanistan.
Covenant Presbyterian Church in Malvern, PA, has established a tax- deductible fund to handle all donations. And Valley Forge Running Company is generously ordering the sneakers for the soldiers.
Please make checks payable to Covenant Presbyterian Church. In the memo line write "Sneakers for Soldiers".
Mail Donations to:
Covenant Presbyterian Church
400 Lancaster Avenue
Frazer, PA 19355
For further information, please contact us: