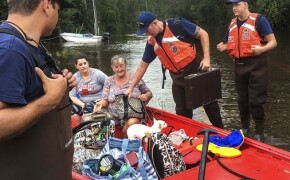 We're collecting and building hygiene kits for Presbyterian Disaster Assistance! Check out our updated list of needs!
Let's Build Hygiene Kits to support Presbyterian Disaster Assistance!
Each Lent, Covenant participates in a special offering to One Great Hour of Sharing. A portion of that offering is given to Presbyterian Disaster Assistance so that funds are available to support people through natural disasters. Presbyterian Disaster Assistance is working with victims of this year's devastating hurricanes (http://pda.pcusa.org/situation/hurricane-irma/). We can help now, too, with a special collection of items to build Hygiene Kits.
All are invited to join the children to package hygiene kits for Presbyterian Disaster Assistance on Sunday, October 22, 9:45-10:40, upstairs. Thank you to everyone who has contributed! We have plenty of washcloths, soaps, and toothbrushes, but in order to fill 50 kits, we need still need:
3 hand towels
38 wide tooth combs
340 standard-sized BandAids
50 nail clippers
Please plan to join us October 22 to pack up these Hygiene Kits during the Sunday Small Group time, 9:45-10:40.