Volunteering Opportunities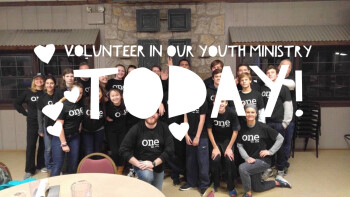 CALLING ALL WILLING ADULTS!
Do you find yourself thinking, how can I help Covenant Youth? Or do you think, hmm I have some free time and I feel God calling me to help somehow? I've got the perfect answer for you! Volunteer with our youth ministries! We have a ton of opportunities and here is how you can help!
Youth Group
Every Sunday evening from 6 pm - 8:30 pm our youth gather for time to play, laugh, grow in community and grow closer to God. It's a wild and crazy fun time, but what is more amazing is how awesome it is to help students along in their continual journey of faith. And of course there is food!
- We always would love people to donate a prepared meal for our youth each week.
Sunday School
I like to think this is our core of what we do. Every Sunday morning from 9:45 am - 10:45 am our students engage in small groups based on school grades: Middle School (grades 5-7), Confirmation (grade 8), and High School (grades 9-12). During this time we go deeper into scripture and learn together what God is saying to us through scripture.
Special Events and Trips
If you find yourself thinking that you just simply don't have time to commit to a regular schedule, we are always looking for adults who can chaperone our special events and trips. Each Month we gather together to do a fun event that students can invite their friends to that is fun, wild, and amazing. In addition, we go on trips throughout the year such as, Youth Combined Winter Retreat, The Great Escape, Summer Mission Trip, etc.
Please contact Phil Nolan for more details on how you can help grow the kingdom of God and invest in awesome students!