Youth Group Events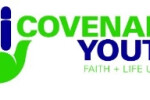 Star Wars Movie Night
When: December 15th 7 p.m. showing
Where: United Artist Theater in King of Prussia
Cost: $17
What: Covenant Youth will meet at 6 pm at the CCLC and will travel together over to the theater. Only 30 tickets are available so sign up here!
Please complete the contact information form for Covenant Youth!
This form will be used to maintain Covenant Presbyterian Church's information about current and former students in our youth program. We would like to be able continue a relationship with our students as they go through life and continue to grow.
Find us on social media: