Sharing the Joy of God's Table
Covenant Presbyterian Church is a spiritual home where we connect our congregation and our community to God's table through worship, fellowship, learning, outreach, and mission.
We COVENANT to live in faithfulness to Jesus Christ.
We grow through worship and faith development as guided by the Holy Spirit.
We demonstrate service to and beyond our community, hospitality that invites people into our lives, and life-changing generosity.
We are a spiritual home where God's love has the run of the house.
As God directs, we aspire as a community to intentionally:
Strengthen our faith through transformational worship, prayer, and music
Grow spiritually through teaching and studying the Bible
Offer ourselves in service to our congregation and beyond through diverse ministries
Cultivate our children and youth to be followers of Jesus
Commit to active engagement with the local community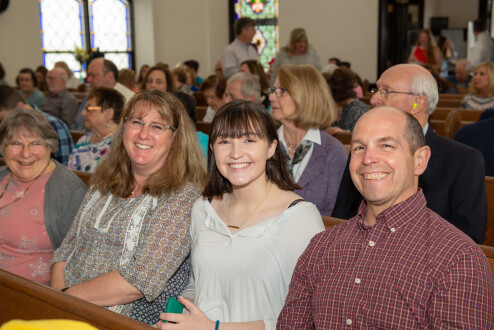 Covenant Presbyterian Church (CPC) worship is warm and welcoming. We offer Sunday, monthly Taize, and special services; many are livestreamed. Music plays an important role in our worship; people of all ages participate in choral choirs, hand bell choirs, and instrumental ensembles.
CPC cherishes gathering around the table for fellowship, inviting friends to join us. We gather to eat, quilt, play softball, discuss books, toast marshmallows, and more. We care for each other with Deacon-led programs, via Stephen Ministry, and as individuals.
Life-long learning and faith journeys are nurtured for all ages at CPC. We offer Children's Church, Adult Sunday School, and weekday study groups to help us grow in the Word.
CPC has a long, vibrant history of sharing God's joy with the community. On our property, we have The People's Pantry, through which we donate food, school supplies, and to the Christmas Family Program. We sponsor Scout troops, volunteer with Broad Street Ministry in Philadelphia, provide music lesson scholarships, and support other regional programs.
CPC's commitment to mission extends well beyond our local area. For 17 years, we've sent teams to help build houses in Reynosa, Mexico, building relationships as well as homes. We are exploring expanding our relationship with Villages in Partnership, Malawi. We package meals for Rise Against Hunger. Covenant members founded a group to support US soldiers. Our mission programs endeavor to reflect the passions of our members.