Children's Summer Programs Make a COMMUNITY Impact!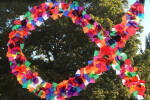 What an amazing summer at Covenant!
Check out these stats from our Children's Ministry TEAM!
What a TEAM! Together Everyone Accomplishes More!
Covenant welcomed a total of 159 children and 33 youth through our reading and FASF ministries!

Covenant's Faith, Arts, Science, Fun Week (FASF) was held August 7-11, 9:00-3:00.
We held Vacation Bible School in the morning, lunch and play, and afternoon special activities.
VBS culminated in a musical presentation of "Noah" on Sunday, August 13.
Afternoon special activities included set and prop design, sewing, science, games, and challenge.
101 children and 29 youth participated and/or helped
with our multitude of adult volunteers.
Donations of toiletries, cards, table centerpieces, and handmade fleece hats were offered to Broad Street Ministry.

And, thank you to the Prayer Shawl Ministry Team
Incredible dedication to this collection of hats and scarves!