Congregational Conversations & Forum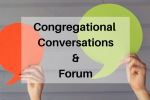 RSVP required to receive your Zoom link to these meetings.
Along with the Forum on August 26th, at 7 p.m., we encourage you to join us for all three Congregational Conversations. The first virtual Congregational Conversation is Sunday, August 30th. The topic is what first drew you to Covenant. During the second virtual Zoom conversation on Sunday, September 13th, the topic will be what keeps you in the Covenant Family. We want to hear about your hopes and dreams for the future of Covenant in the third and final Zoom conversation on Sunday, September 27th. All sessions will begin promptly at 9 a.m. and end by 10:30 a.m.
Read a letter to the congregation here.
View a recording of the September 13th Congregational Forum:

View a recording of the August 30th Congregational Conversation with Bill Wilson:
View a video presentation of the church timeline created by Donna Garthwaite and Carol Braun!

View a recording of the August 26th Congregational Forum: