Holy Week Services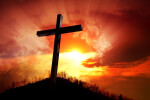 Dear Covenant friends in faith,
I came across this little poem of wisdom that stopped me in my tracks:
If you want to live life free,
Take your time, go slowly.
Do few things, but do them well.
Simple joys are holy.
God's gift at Easter is the freedom to live life to its fullest in faithfulness to God: to risk, to be vulnerable, to be passionate, to suffer, to succeed, to win or to lose. In faithfulness, God honors all that we do or attempt, and ultimately we are raised in glory. Short-term outcomes fade in comparison to being raised with God!
Holy week approaches. It is a time to be holy, to go slowly in prayer and reflection before God. Palm Sunday music penetrates our spirit with Hosannas and the Easter story. Maundy Thursday lets the gospel of Mark focus our mind and centers us on the passion narrative. The Good Friday service is a once a year opportunity to take 3 hours for seven phrases that Jesus spoke from the cross. Three hours is the cycle of time often taken for shopping, a dinner out, and a game of golf, a movie, baseball or hockey game. Only these 3 hours will change your life forever!
Take your time. Go slowly this year. Do a few things with Christ during Holy Week. Do them well. Prepare for an Easter feast of the spirit that you've never tasted before!
Lord's Blessings,
Dr. Jim Moyer