Nature. Beauty. Gratitude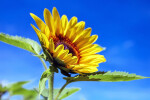 This past Sunday our congregation shared a time where we cultivated gratitude for the many blessings God has given to us in our personal and corporate church lives. As I reflect and think about all the things God has given to me in this season of ministry I am truly grateful. I am grateful for this opportunity to show and see God's beauty and wonder with all of you. I am also truly grateful for the positive response in participating in worship that was different from what we normally do.
Revelation of God comes in many forms, but one of those amazing forms is found in Nature. This form of revelation and study is called Natural Theology. Traditionally natural theology is the term used for the attempt to prove the existence of God and divine purpose through observation of nature and the use of human reason. Seen in a more positive light natural theology is the part of theology that does not depend on revelation.
As we enter this season of spring and summer time let us slow down and take in the beauty of God's splendor in nature. Let us open our eyes, slow down, and reflect on the beautiful painting that God has given to us. Let us be still in awe of God's amazing creation and be thankful to be apart of this beautiful display. If you want you can watch the video from worship in this TED Talk about Nature, beauty, and gratitude by Louie Schwartzberg. click this link: Nature. Beauty. Gratitude.