Pastoral staff response to systemic racism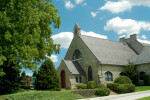 Dear Covenant church community,

We've all been devastated by the images we have seen in the news: images of violence, of hatred, of oppression, and of murder. We've witnessed the unjust killings of George Floyd, Ahmaud Arbery, and Breonna Taylor which were horrific not only in how they happened, but in what they imply for our society as a whole. With broken hearts, we echo the words of the Psalmist, "How long, O Lord? Will you forget us forever?" We lament that society still does not look like Paul's vision where "there is no longer Jew or Greek, slave or free, male or female, but all are one in Christ Jesus." And so, as we so often do at Covenant, we weep with those who are weeping.

Covenant is a community where God's love has the run of the house. Therefore, we are called to practice that kind of love in our interactions with one another. God's love is powerful! We've seen it with our own eyes. God's love is stronger than fear, stronger than systemic racism, stronger than violence, stronger than division. We will choose the path of love, even when it is difficult. The path of love leads us towards justice for every person, towards love of our neighbors, towards the "beating of swords into plowshares," and towards respectful dialogue.

A common question we hear is "What can we do?" How do we channel the swirl of painful emotions into purposeful and faithful living?

First, we can continue our conversations with God. We continually look to God for strength and help when facing these difficult tasks. We pray for God's voice to be heard through Scripture. We seek God's guidance to lead us in right paths. Together, with God's loving Spirit, we work towards justice and peace.
Second, we can recommit ourselves to treating each person in our lives with dignity and respect, knowing that each human being is rare and valuable. We are taught by Matthew 25:34-46 that what we do to others, we do to Christ. In this way, we are encouraged to see the person of Christ in everyone we meet.

Third, we can educate ourselves, our households, children, and teenagers. To that end, we've compiled and attached a list of resources on race and systemic racism.

Finally, we remain a people of hope. The Holy Spirit has gifted us with love and grace to positively impact our neighborhoods, society, and world. We live filled with God's hope because all things are possible with God.

Your pastoral staff,
Rev. Dr. James Moyer
Rev. Alex Becker
Jennifer V. M. Langlois
Kinsey & Jamie Edgar-Nielsen
Tom Sabatino
We have assembled resources to support the Covenant family in our study, dialogue, and discussions with children, youth, and adults. As Covenant staff, we also offer our time and willingness to discuss these important topics from a Christian Faith perspective.
RESOURCES FOR YOUTH

These are hard times to navigate as a family. The conversations about race and discrimination can be intimidating to start. Research is showing that the best way to engage in these conversations is to remember the following:
Understand that it is not a one-time conversation. The conversation about race is on-going.

Help children see that there is value in diversity.

You do not need to avoid hard topics. Kids can handle complicated subjects. Engage children in meaningful discussions.

Relevant Resources
RESOURCES FOR CHILDREN

God calls us to spread love and kindness in his name to all people. In times such as these, you may find some resources for your family here:
RESOURCES FOR ADULTS
Watch this powerful statement from the stated clerk of our General Assembly
Read these meaningful words written by Tom Sabatino, our Director of Music
Consider these Book Recommendations from Bryan Borger of Hearts and Minds Bookstore, York, PA:

Just Mercy: A Story of Justice and Redemption Bryan Stevenson (Oneworld Publishing) $17.00 Simply one of the most powerful books I've ever read (have you seen the movie?) Bryan Stevenson is an amazing person and we have long been evangelists for this book. It's about his work with those imprisoned unfairly, attempting to get them a fair trial and true justice, so it is mostly about the courts and prison and institutional racism. What a great writer and justice champion. He went to Eastern University before graduating from Harvard Law School and now directs the Equal Justice Initiative. Fans of his should know he is one of four conversation partners in a small book edited by central Pennsylvania Sherrilyn Ifill, called A Perilous Path: Talking Race, Inequality, and the Law (New Press; $15.99.)

Note: Just Mercy, the movie based on this book starring Jamie Foxx and Michael B. Jordan, is available to watch free online at redbox.com/movies/just-mercy for the month of June.

Living in Color: Embracing God's Passion for Ethnic Diversity Randy Woodley (IVP) $18.00. Randy is a Native American and brings a great Biblical perspective, with a hint of his own indigenous background. This is a great primer on this topic that I often encourage people to start with. Praise the Lord for this!

The Color of Compromise: The Truth about the American Church's Complicity in Racism Jemar Tisby (Zondervan) $19.99. Tisby is one of the bright young scholars of American history and this overview of the church's complicity with racial terror is a must read. We carry the DVD curriculum on this, too, which is highly recommended. Lecrae wrote the foreword, which is cool. But more, it is important. We need to know this stuff and, some of us may think, adapt some of his radical calls to action near the end of the book. Let's go!

Free at Last? The Gospel in the African American Experience Carl Ellis (foreword to the new edition by Sho Baraka) (IVP) $21.00. I think this is really, really important, a great black church history by an African American scholar and leader in the PCA denomination. This brand-new edition was just released as a "classic" commemorative version, and we're so glad. Very highly recommended.