Rise Against Hunger Event - May 5th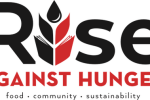 Rise Against Hunger Meal Packaging Event
May 5th
1-4pm
Head over to the CCLC after the 11am service on May 5th. We will supply lunch and then the meal packaging will start at 1pm and end around 4pm. This is a fun multi-generational event and provides meals that will be distributed around to world to crisis-burdened areas. We will package 20,000 meals in only a few hours! Please consider volunteering and/or donating to cover the cost of the ingredients.
Sign up to help or donate online at:
http://events.stophungernow.org/CovenantPC
Donations can also be placed in the offering plate using a pew envelope and you can also sign up at the Greeter's Desk. Please mark the pew envelope with Rise Against Hunger and make checks payable to the church.