Special Worship Service & Reception on January 29th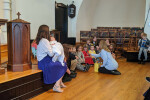 Join Covenant on January 29th during the worship service for a special time of worshiping God by exploring the presence of God's joy throughout our lives. We will sing songs of joy, be led in worship by our Chancel Choir, and have the opportunity to explore different activities around the sanctuary and in the pews as an "active sermon" during worship. On that Sunday, we will also celebrate the ministry of Jen Langlois as she ends her time as Director of Family and Children's Ministries, including a reception after worship (look for food sign up below). All are welcome!
Please consider signing up to bring soup, fruit or salad for the reception after the service. Please sign up here by Monday, January 23rd!

As a reminder, we are assembling a scrapbook-type book for Jen, where the pages are made by each of you (or your family). You may submit most anything that can fit on an 8.5 by 11 inch page, and/or be printed or adhered to a page. Notes, cards, words of gratitude, best wishes, memories, letters, photos, illustrations, children's hand prints, or anything else you would like to include, are all welcome. For this purpose, heavyweight paper is available at the Welcome Desk at the church for you to take home and use. Completed pages or other print items can be returned to the church office, or mailed to Covenant Presbyterian Church (400 Lancaster Ave. Malvern, PA 19355). Digital/electronic work can be emailed to . Please submit by January 23rd.
You are also welcome to make a contribution towards a gift for Jen. You may give by a check written to Covenant Presbyterian Church (memo line: Jen's gift) or give online (covenantfrazer.org/give) to the misc fund (note line: Jen's gift).
Please offer prayers of gratitude for Jen's ministry and hope for her future.
Thank you for your help in celebrating Jen's wonderful years at Covenant and all that she has brought to our community.