Ways to Get Involved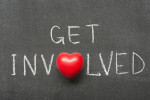 There are LOTS of ways to get involved at Covenant!
Children's Church! We are looking for teachers and helpers to join us Sunday mornings during the 11am worship time. We are excited to offer three classes to accommodate our growing number of participants. Please contact Jen Langlois (by email or 610-648-0707) or sign up at https://tinyurl.com/CovenantSundays. Join us once! Join us twice! Join us on a regular basis! We welcome (and require) your involvement.
Audio/Video Team! The AV Team is searching for volunteers to work the sound board during worship services and other events. They are also looking for someone to coordinate the scheduling of A/V volunteers (even if not part of the A/V team). Training is provided for this important ministry. Please contact Dawn Catteau if interested.
Our seasonal Children's Choir begins Sunday, October 20 (10:10-10:40am). All children are welcome to join Tom Sabatino and Mary Moyer to prepare songs for Thanksgiving and for the Concerts for the Christ Child (December 8). Contact Mary with any questions.
Covenant Casseroles! On Sunday, October 27th, join us on the Upper Level between services to prepare and freeze Tater Tot Casseroles to support the outreach of Deacons' Helping Hands. Look for our poster in the gathering space and sign up if you would like to contribute ingredients. Contact Patty Neeb with questions.
The Stephen Ministry equips lay people to provide confidential, one-to-one Christian care to individuals in our congregation and community who are experiencing difficulties in their lives. If you would like to be a part of our planning team or would like to learn more about small groups, please contact Milly Elrod. Please be sure to pick up a poem further explaining Stephen ministries on the windowsill.

Worship Choir has begun, but there's still room for you! The Covenant Worship Choir began rehearsing Thursday, October 3rd, and will continue every Thursday evening, from 6:45pm to approximately 8:15pm in preparation for the Concerts for the Christ Child, which will be held on Sunday, December 8th. We have an exciting program to prepare that includes performances by not only the Worship Choir, but also the Unity Ringers, brass, keyboard, percussion and more! Feel free to bring a friend. We'll supply the music, fun, and even a pencil! All you need to bring is your voice and a willing spirit to sing!! Previous music experience not required, but always welcome! For questions or inquiries, contact Tom Sabatino, Director of Music.


Thank you for sharing your time and talents with the Covenant Community!