Welcome to our new website!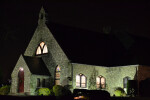 Welcome to our new website!
I am so very glad you found us. On behalf of the Covenant Presbyterian church family, let me invite you to join in with any of our missions, ministry, and worship. Our doors and hearts are wide open.
So, we hope you will explore and click around to check out what God is doing right here in Malvern/Frazer, Pennsylvania.
May God's blessings of joy and love be with you. I do look forward to seeing you in church.
God bless,
Dr. Jim Moyer, Lead Pastor