Covid-19 Guidance updated May 24, 2022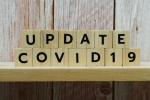 The Healthy Pathways Task Force has recommended that Covenant continue to follow guidance from the CDC as it relates to Covid-19 mitigation strategies. Updated CDC guidelines were released on 2/25/2022. This guidance uses a metric that is available at tinyurl.com/cdccovidbycounty. Depending on the level, different prevention steps are recommended according to the chart below.
In this new phase of the pandemic, Covenant will support each individual and family's decision to mask or not mask within the green and yellow levels of Covid spread. We ask that we offer grace and gentleness to one another as we gather--please remember you do not know the details that have factored into a person's decision to choose to mask or not.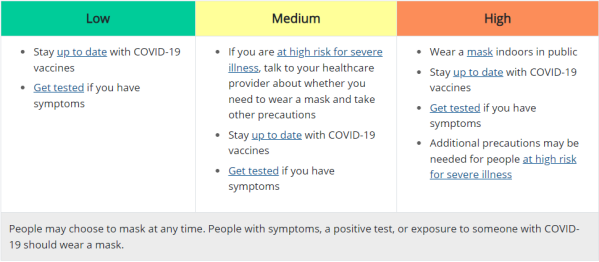 More information about these levels is available at tinyurl.com/covidcommunitylevels
Our masking policy is:
Masks are strongly recommended when the community level is High
Masks are recommended, especially for immunocompromised individuals and those with immunocompromised family members, when the community level is Medium
Masks may be worn at the discretion of the individual when the community level is Low
Please consult the information below to see what our current community level is in Chester County