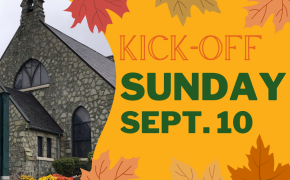 On September 12, we will kick off the fall!
∙ Covenant will be using "Follow Me" from PCUSA which explores spiritual disciplines in 4-week units in worship and in small groups with children, youth, and adults. September 12 - October 3 we will study "Welcome All" together. Adult Sunday School starts on September 19.
∙ We will bless backpacks. All ages are invited to bring a backpack, a laptop/tablet, a purse for a special blessing (and luggage tag).
∙ And, we will share food (donuts) and fun outdoors between the worship services. Join us 9:30-11:00.
∙ Nursery Open for Families at 11:00 a.m. – Although the nursery will not be staffed this fall, the room will be open to families to use on their own. Worship will be shared via television. Children (birth through age 3 plus siblings) must be supervised by a parent, grandparent, or other adult caregiver. Please contact Jen Langlois ( ) for more information.
∙ 8:30 worship: We will offer SermonTime StoryTime during the sermon for children age 3 through grade 5 outdoors "behind" worship.
∙ 11:00 worship: We will offer Children's Church for ages 3 through grade 5. Volunteers are needed to make this happen! Sign up at https://tinyurl.com/SundayHelpers or contact Jen Langlois ( ).
∙ Youth Families (grades 6-12), watch your email for more information about the fall schedule.