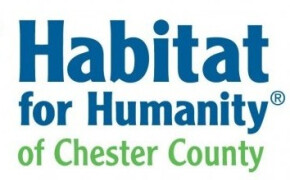 Our mission prayer for October celebrates the work of
Habitat for Humanity of Chester County
. The vision of Habitat for Humanity is a world where everyone has a decent place to live, which is expressed in their mission statement: "Seeking to put God's love into action, Habitat for Humanity brings people together to build homes, communities and hope"
Habitat for Humanity of Chester County began operations in 1986 as a unit of the Greater Philadelphia Area Habitat for Humanity and became a separate affiliate in 1989. Habitat's program serves those who would not be able to afford a mortgage by conventional means. Each home is sold to a low-income family using a no-interest 30-year mortgage for the full purchase price of the home. Habitat homeowners are carefully selected based upon three criteria: the need for decent, affordable housing; the ability to repay the mortgage loan; and the willingness to partner with Habitat by participating in their sweat equity program (families are required to provide 200 to 400 hours of sweat equity as part of their eligibility for Habitat homeownership). Since 1989, volunteers have built or renovated 147 homes for low-income families in need of decent, affordable housing. Mortgage payments made to Habitat go back towards the construction or rehabilitation of homes for other low-income families in need.
President Jimmy Carter is a significant ambassador for Habitat for Humanity and at age 95 remains a regular volunteer. There are plenty of opportunities to volunteer in our community and Covenant will be planning a volunteer day for November. Please watch for information and more details.
Let's show our commitment to this outstanding mission in November. Please visit their
website
for more information.