Welcome! Our goal is to help our children become true disciples of Jesus Christ by building relationships with them, being examples for them, engaging them in church, linking the generations of our community, and teaching them God's Word.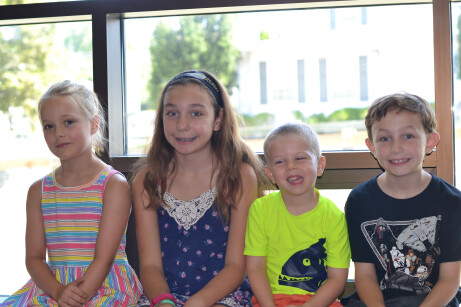 Children's Sunday School (Age 3 - 5th Grade), 9:45-10:45am
Our children's Sunday School program is available for children age 3 through 5th grade. We use Cokesbury's "Grow, Proclaim, Serve" curriculum. Please join us for Bible exploration, crafts, songs, and lots of fun!
Children's Church (Age 3 - 2nd Grade), during 11am worship service
After the Children's sermon, children ages 3 through 2nd grade are invited upstairs. Jen Langlois, Director of Christian Education, and one adult volunteer will share worship, interactive Bible stories, scripture, games, activities, and prayer. New volunteers are welcome - please sign up on the tree across from the office or speak to Jen directly if you can assist on a Sunday morning.
**Covenant kids are always welcome to remain in worship with their families.**
Children's Worship Packets
Worship packets with puzzles and coloring pages for children in grades 3-5 are available on the front left windowsill.
Infant and Toddler Care (up to age 3)
Care is provided for infants and toddlers (up to age 3) during both worship services and the Sunday school hour. The nursery is located on the main level, adjacent to the building's side entrance.
Guardian Ministry

Covenant Presbyterian Church is committed to the safety of our children. As such, we have a longstanding policy requiring all employees, teachers, and volunteers who work directly with children to obtain background checks and clearances. We are in full compliance with Pennsylvania's Act 15 of 2015.