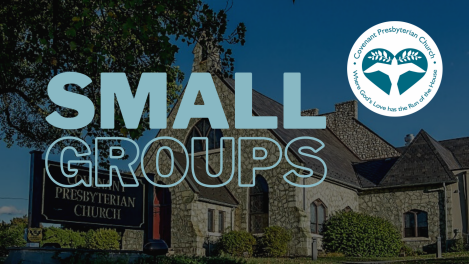 Did you know Covenant has the following Small Groups?
We'd love to have you join us! Feel free to contact any group leaders or the church office for more information. You may also fill out the form at this link and someone will contact you!
See our full calendar to find specific small group dates.
To find out about Music Ministry Groups, go to our Music & Worship Arts page.
To find out more about Children's Ministry, go to our Covenant Kids page.
To find out more about Youth Ministry, go to our Covenant Youth page.
Adult Christian Education
In Adult Christian Education, the focus is on how ideas in biblical passages relate to our everyday lives with consideration of societal issues & our individual relationships with neighbors, family, & God. The class uses various curriculum materials, usually in small blocks of about 4 weeks; these materials typically provide a study guide of 4 – 5 pages per week that serve as the basis for the week's discussion. Often times, the lessons are planned to connect with the week's sermon text & topic. All are welcome!
Location: Rm. 207 (upper level) with a Zoom option
Schedule: Sundays, 9 a.m., Sept. - June, starts 9/17
Curriculum: Follow Me: Forgive
Contact: Jim Godbold;
Book Club
A multi-generational book discussion group. Books are selected by the members. Come for lively discussion! Check the calendar for each month's book choice.
Location: Fellowship Hall (lower level) with a Zoom option
Schedule: 3rd Mondays, 7 p.m., through June (Jan-March meetings are on Zoom only)
First club meeting: Sept. 18, 2023
Leader: Elizabeth Young;
Sept. 18 - Maise Dobbs by Jacqueline Winspear
Oct. 16 - All About Me! by Mel Brooks
Nov. 20 - Lessons in Chemistry by Bonnie Gramus
Dec. 18 - Christmas at the Little Street Bakery by Jenny Colgan
Jan. 15 - TBD
Feb. 19 - TBD
March 18 - The Master Butchers Singing Club by Louise Erdrich
April 15 - TBD
May 20 - The Book of Lost Names by Kristin Harmel
June 17 - TBD
LIFT - Living in Faith Together
The purpose of LIFT (Living in Faith Together) is to create a safe time and place for women to gather, share and grow in the knowledge and love of Christ. LIFT meets on Mondays, 10:00-11:30 a.m. in the fellowship hall on the lower level. New attendees are most welcome.
This semester, they will be reading and discussing the book, Love Does by Bob Goff. They open the meetings with a short meditation and prayer, then discuss the assigned chapters, followed by prayer requests and prayer for the needs expressed. Women are welcome to sign up for LIFT until September 25th. LIFT has a brunch and social time at the end of each semester with the food supplied by members. All women are invited to the brunches and have the option to sign up to attend the next semester.
Location: Fellowship Hall (lower level) with a Zoom option
First meeting: Mon. Sept. 11, 2023
Schedule: Mondays, 10 - 11:30 a.m., September through May (with some exceptions)
Leader: Karen Smith;
Prayer Shawl Ministry
The Prayer Shawl Ministry is a heartwarming groups of people who knit, crochet and pray. People who receive our shawls are cradled in hope, kept in joy, graced with peace and wrapped in love. All are invited to join.

Location: Parlor with a Zoom option
First Meeting: Mon., Oct. 9, 2023
Schedule: 2nd Mondays, 12 - 2 p.m., October - June (some exceptions)
Leader: Pat Graham;
Presbyterian Women
All women are welcome at our monthly Bible study for inspiration, fellowship, and service.
Our Study book this year is Sacred Encounters: The Power and Presence of Jesus Christ in Luke-Acts. All women of the church are welcome to join us.

Location: Parlor with a Zoom option
First meeting: Wed. Sept. 20, 2023
Schedule: 3rd Wednesdays, 1 - 3 p.m., September - June (some exceptions)
Leader: Mary Decker;
Promise Keepers
Promise Keepers is a Christ-centered men's group open to the community. Every gathering starts with fellowship and sharing of prayer concerns, followed by a time of prayer and study. This year the group is studying The Life and Ministry of Jesus Christ – The Greatest Story Ever Told by Don Stewart.

Location: Parlor with phone option
Schedule: Mondays, 6:30 p.m. and Fridays, 6:30 a.m. (with some exceptions), All year.
Leader: Jim Carr;
Retirees Lunch
All retirees are invited to meet for lunch and fellowship at a local restaurant the 2nd Wednesday of each month.

Location: Varies
Schedule: 2nd Wednesdays, noon (Sept. - June)
Contact: Alex Becker;
Quilters
The Covenant Quilters gather weekly to hand quilt together around a frame from the 1800s. We enjoy fellowship as we work together in the art of creating, caring and sharing Covenant Quilters donate all offerings earned to the mission work of Presbyterian Women.
Location: Iris Fairbairn's house (call church for address) through Oct. 17th, then starting on Oct. 24th. they will meet at church on upper level, Rm. 211
Schedule: Tues., 10 a.m. - 2 p.m., All year.
Leader: Elizabeth Young;
Women's Bible Study
Women's Bible Study is a place to find rest, to be encouraged, and to grow in faith! Together, this group centers on God's Word and discovers what the Bible has to say today. They listen for God's guidance and apply what they learn in their everyday lives. Join them as they build relationships and encourage one another in their faith through studying and discussing scripture. This fall, they will be using a study guide on the book of Mark by N.T. Wright.

Location: Lower level with Zoom option
First Meeting: Wed. Sept. 13, 2023
Schedule: Wednesdays, 7 - 8:30 p.m. (does not meet when Taizé is happening), Sept. - May
Leader: Sarah Reindel;