Welcome to
Covenant Presbyterian Church
Covenant Presbyterian Church is a spiritual home where we connect our congregation and our community to God's table through worship, fellowship, learning, outreach, and mission. Our community is a welcoming and diverse group of people who encourage and affirm each person's faith journey. We believe that faith expands in community, and our growing church has an open atmosphere filled with the joy of Jesus Christ. We are a thriving worship community with deep roots in Frazer and the surrounding area, and we hope to see you soon!
Sunday Morning Worship Services
Join us for a friendly, welcoming service full of music, prayer, scripture, fellowship, and an uplifting message. Our doors are open to all, whether you have a lifelong relationship with Christ or are still seeking to find your answers. Come with an open heart and leave with a refreshed soul.

9 a.m. - Adult Sunday School on lower level
10:00 a.m. Traditional Worship Service with live stream
Taize Service
First Wednesday of every month at 7 p.m.
Join us in the sanctuary for a quiet time of gentle music, scripture, silence, and prayer.
Sharing the Joy of God's Table
We are a compassionate, non-judgmental, and inter-generational community of believers. Our congregation includes children, teens, young adults, great-grandparents and all sizes of folks in between. We joyfully embrace all people as we join together in a faith journey through worship, fellowship, study, service, and mission.
Covenant's doors of Christian opportunity are open wide! Please consider joining us where God's love has the run of the house.
Covenant Presbyterian Church is a member congregation of the Presbytery of Donegal and the Presbyterian Church (USA). PCUSA is the spiritual home for more than two million people who worship in nearly 11,000 Presbyterian congregations throughout the United States.
Don't be worried about what to wear, just stop by on Sunday! We don't have a formal dress code or fashion requirements – we want to meet you, not your outfit. Some people choose to dress casually, others like to be formal. Please wear whatever is comfortable for you to attend worship.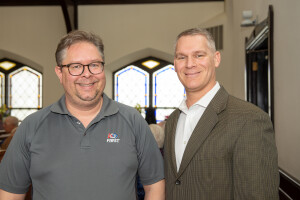 Find out about our children's ministry here!