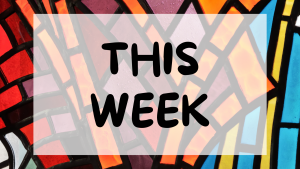 CLICK HERE TO SUBSCRIBE TO RECEIVE CHILDREN'S MINISTRY EMAILS
Welcome!
At Covenant, we strive to provide multiple pathways for children to learn about God, experience God's love, practice worship arts, and explore their gifts with peers and between generations. Ministry opportunities are available only by the generous gifts of time and talent shared by our Covenant volunteers. Please prayerfully consider how you and your family can participate with us either as participants or helpers.
Sunday Ministry Opportunities for Children
During worship services:
Children are always welcome in worship services at Covenant. Click here for ideas to support Kids in the Pew. Other opportunities include:
Worship Materials – Ask an usher for help to find the children's worship table in the narthex at the back of Covenant's sanctuary or on the windowsill near the front of the sanctuary. There you will find activities designed to help young children listen and engage in worship.
Gathering Space – Adults and children may opt to worship together in the gathering space. A children's table with quiet activities and a rack with children's books are available for little ones while the service is livestreamed.
Nursery
Children birth through age 3 are invited to the nursery to play and to learn together. Loving caregivers will share a short story and simple activity each week with the children. A take-home page is available for families to reinforce the lesson.
Children's Church during 10:00 Worship - No Children's Church during summer.
Children ages 3 through grade 5 are invited to Children's Church following the children's message during the 10:00 worship service. Two classes will meet to discuss worship themes through story, prayer, games, crafts, and other activities. Volunteers can sign up here. This year, Children's Choir will be a part of Children's Church, where the children will learn songs and have an opportunity to share these songs as part of the worship services throughout the year.
AT-home faith formation suggestions
Click the "This Week" button at the top or bottom of this page and choose "Covenant Kids".
Questions?
Contact Dara Harris, Director of Children and Youth Ministries at or 610-648-0707.