Lent and Holy Week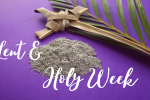 The season of Lent is one of returning and remembering - as light returns to our hemisphere in the lengthening of spring days, we are invited to turn to the light of Christ in anticipation of Holy Week and Easter - a sacred season of thanksgiving for Jesus and all he has done for us through his life, death, and resurrection. In John 14:19 Jesus says, "In a little while the world will no longer see me, but you will see me; because I live, you also will live." This Lent, let us invite each other to look for Jesus in our worship of God, fellowship with one another, and service to our neighbors.
Congregational Read & Potluck Dinner
This Lent, you are invited to read "Meeting Jesus at the Table", a Lenten Bible Study that explores the intersection of Jesus and the Table of God in food and feasting. Our Sunday morning sermon series will be based on readings from this study, and Adult Sunday School is focusing on each lesson. Books are available for purchase at the Welcome Desk on Sunday mornings or in the office from 9:00-1:00 Monday-Friday, the suggested donation is $10 and can be paid online (select Misc. and include "Congregational Read" in the memo line) or by check or cash.
On Wednesday, March 29th, 6 p.m., a potluck dinner will be held to reflect on this book, share our learnings, and have fellowship with one another in anticipation of Holy Week. More details will be shared as the event draws near.
Lenten Worship Services
Ash Wednesday
An Ash Wednesday worship service with imposition of ashes, communion and choral worship leadership will be held on Wednesday, February 22nd at 7 p.m. In addition, the church will be open from 12 -1 p.m. for imposition of ashes.
Palm Sunday
Palm Sunday Worship Concerts will be offered on Sunday, April 2nd, at 8:30 and 11 a.m. Please note the change in worship times as we anticipate Holy Week through this musical service. There will be no Children's Church this Sunday.
Maundy Thursday
A communion worship service will be held on Maundy Thursday, April 6th, at 7 p.m. In this service of remembrance of the Last Supper, we will offer our thanks for Jesus' willingness to give even his life for us, anticipating the cross of Good Friday, the grave of Holy Saturday, and looking towards the resurrection of Easter Sunday. Please bring a item to share with the pantry.
Good Friday
This year, an online meditation will be offered for Good Friday at noon and 7 p.m. at covenantfrazer.org/live.
Easter Sunday
Covenant's Easter Sunday worship services will be held on Sunday, April 9th, at both 8:30 and 11 a.m. Please plan to join us for a joyful celebration of the amazing love of Jesus and his victory over sin and death! There will be no Chidlren's Church this Sunday.
Easter Memorial Flowers
Once again, Easter flower memorials for our Easter Worship Services in honor of loved ones will be offered. Order flowers HERE.