Covid-19 Response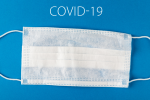 Dear Covenant Family,
The Healthy Pathways Task Force, in conjunction with the Virtual Worship Committee and the Facilities Committee are working to transition to hybrid worship services.
Tentative Schedule for Transitioning to In-Person Worship with Livestreaming:
Phase 1*

February 21: Final technology test
February 28: Virtual worship following Zoom Congregational Meeting
March 7: Hybrid evaluation worship service – test and evaluation session (in person participation based on current PA guidance and limited to Healthy Pathways and Virtual Taskforces and Facilities Committee members)

Phase 2*

No earlier than March 14: Hybrid worship service (with RSVPs for in-person participation)
Prerecorded portions of the worship will be projected in the sanctuary. Some portions will be live. We will add live portions as we refine our use of technology. Thank you for your patience.
*Above phases dependent on current Presbytery guidance.
If all goes well and conditions remain favorable, on Tuesday, March 9, 2021, a decision will be made whether to proceed with a worship service, open to all members of the congregation (RSVP required). We will start with one hybrid service on Sunday (in person/virtual).
Attendance is purely discretionary. No one should feel pressured to attend in person.
When we proceed with a hybrid service, a notice with an RSVP form will be sent.

*If demand is high, efforts will be made to accommodate more people at subsequent services.
*Anticipated Capacity:
1. Sanctuary (most accessible for congregants with limited mobility): 14 person/family units with 6' spacing or a total capacity of 50 people (including worship leaders, musicians and ushers).
2. Gathering Area (most accessible for congregants with limited mobility): 3 – 4 persons/family units technology permitting.
3. Fellowship Hall (Lower level): Seating will be added as technology allows for 15+/- persons/family units.

Masks are required in the church building at all times for all people except children under 2.
A list of COVID symptoms will be posted. Anyone who is running a temperature over 100.4, or feeling unwell, should not attend in person.
To facilitate social distancing, pews to be occupied will be designated with bows. The Order of Worship papers will be placed in the pews that may be occupied.
Participants will enter at the West entrance and proceed across the gathering space to the ramp into the sanctuary.
The offering collection plates will be placed at the West entrance. Online giving is encouraged.
Touchless greetings are encouraged, please wave or bow. There should be no handshaking or "holy hugs". Please respect everyone's space.
Families are requested to keep young children with them during worship as Nursery care and Children's Church are suspended until further notice. The changing table will be available in the Nursery.
Eating and drinking in church facilities, with the exception of children under 2, is prohibited.
We will need volunteers to usher for worship and volunteers to wipe surfaces between services when we move to more than one service. If you are willing to serve, please email Lynn at , so she can compile list of volunteers for when we start in-person services.
We thank you, as a member of Covenant, for keeping the faith and respecting our decision to transition thoughtfully to hybrid services. For Congregation Members who attend in person, we ask for your patience and cooperation as our evolving live streaming capabilities and technology improvements may initially cause some disruption or distraction during the service. We will continue to monitor the CDC guidelines, as well as the number of cases in Chester County, in order to discern whether we can meet the proposed timelines. Your patience is appreciated.
The Healthy Pathways Task Force
Virtual Worship Committee
Facilities Committee