Updated Guidelines from Healthy Pathways Task Force, August 13, 2021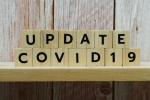 Update from Healthy Pathways Task Force:
Due to Chester County experiencing substantial transmission of the delta variant of Covid-19, worship practices will be adjusted beginning this Sunday.
The 8:30 AM worship service will be held outdoors. At this service, masks are not required, but all are welcome to wear masks outdoors. This service will be held outside the west entrance of the church.
The 11:00 AM worship service will be held indoors and masks are strongly recommended even for vaccinated people. Please wear a mask, and thank you!
Additional details:
The CDC has identified Chester County as having "substantial transmission" of Covid-19. Recent studies have shown that while Covid-19 vaccines provide substantial protections against the virus, vaccinated people are still capable of transmitting infections that can cause hospitalization, long-term health effects, and death. Because of this, we are following CDC guidance and encouraging everyone, vaccinated and unvaccinated, to wear masks when gathering for worship and small group meetings (see covenantfrazer.org/cdcJuly for more information). We also encourage everyone who is able to get vaccinated to protect the vulnerable and to help bring an end to this pandemic. Thank you for helping us show our love to our neighbors and community in this way!