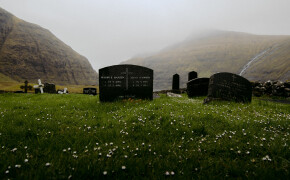 There in the ground his body lay,
Light of the world by darkness slain.
Today is a difficult day in our faith. You might already be celebrating Easter with decorations all around the house and plans for some semblance of egg hunts or Easter "gatherings" over the phone or internet - a welcome relief in a time like this. But on Holy Saturday we also have to admit that we have faith in a Savior who died.
Easter doesn't erase the fact that Jesus died. His body couldn't handle what life threw at it. He was damaged, disabled, and overcome – at least on a physical level. On Holy Saturday, there is no resurrection, no healing. We can't make this better. Over the centuries, many theologians have come up with theologies that pass over Jesus' death, saying that it wasn't real, that it was an illusion, that the "true" Jesus somehow didn't experience it. Consistently, the vast majority of Christians have rejected this thinking: we cannot gloss over Jesus' death.
I think that to gloss over Jesus' death is to gloss over our own trauma and the trauma of our neighbors. To me, the most powerful part of our faith is that Jesus actually died as a human dies – actually experienced our pain, faced our deepest fears, shared the same fate as the rest of us – and from that point offers us salvation. This means that when I suffer, I don't suffer alone. Jesus understands, and he wants me to know that he understands.
Holy Saturday is our reminder that our pain is not an illusion, our suffering is not something that we have to beat down with our faith, the stench of our trauma cannot be covered over with Easter lilies. Jesus loves us, trauma and all. Jesus speaks peace to broken people and calls them beautiful in their brokenness. Jesus saves us while we were yet sinners. This is not a God who looks at us and says, "not good enough." This is a God who says, "I know you, and I love you." We serve a carpenter who reaches out to us with broken hands and says, "I am with you through it all."
Pastor Alex